Photos from World War I
February, 2016
The First World War, or WWI, is often associated with Europe, but the War impacted many Americans, including families living in Carbon County.
Men in all Carbon County communities not only registered for the Selective Service, but were called for military service.
Where did the men of Carbon County serve during The First World War?
Most served in France and other places in Europe, like O'Melia and Toothaker.

Some stayed in the U.S., such as A. R. McMicken who served in California.

Others were sent to the Pacific, such as W. E. Richardson who served in Guam
This exhibit includes short bios of Wilbur Toothaker of Encampment, WY, and Robert O'Melia of Rawlins, WY, and features photos and information from the following Carbon County museums:
Hanna Basin Museum- Hanna, Wyoming

Grand Encampment Museum- Encampment, Wyoming

Little Snake River Museum (Burl Peppler Collection)- Savery, Wyoming
---
Key Ingredients: America By Food
May 4-June 16, 2013
at Carbon County Higher Education Center Vocational Campus
812 E. Murray Street, Rawlins, WY 82301
Phone: 307-328-9274
This spring, Carbon County Museum and Carbon County Higher Education Center are partnering with the Wyoming Humanities Council to host Key Ingredients: America By Food on its Wyoming tour. The exhibition delves into the historical, regional and social traditions that merge in everyday meals and celebrations of the American table.
Museum staff will curate exhibits at CCHEC's Vocational Campus to tie Key Ingredients to Carbon County history and culture. A photo contest will be open to local submissions through March, 2013. Show us photos of "What's in Your Refridgerator?" and have a chance to see your work displayed along with a Smithsonian Institute exhibit and win great prizes from local sponsors. Call the museum at 328-2740 for more information.
Also, keep an eye out for related events throughout April, May and June. Our partners include: Carbon County Historical Society, Memorial Hospital of Carbon County, Rawlins Community Garden, United Way, Rawlins D.D.A./Mainstreet, the University of Wyoming Carbon County Extension Office, Wyoming Frontier Prison, and others.
Key Ingredients: America By Food is part of Museum on Main Street, a collaboration between the Smithsonian Institution and the Wyoming Humanities Council. Support for Museum on Main Street has been provided by the United States Congress.
---
It Takes Weather, Water and Work: Farming in Wyoming
February 1-28, 2013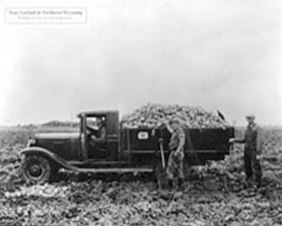 photo courtesy Wyoming State MuseumWhat does it take to successfully farm in Wyoming? It takes weather, water, and work. Learn about early and modern farming in the state with this traveling exhibit from the Wyoming State Museum.
Topics such as the food harvested by Native Americans, the state's arid climate, the importance of irrigation, sugarbeets, and modern farming are addressed through photographs, illustrations, and text.
---
Capturing Carbon County: Local Landscape Photography
December 21, 2012-January 25, 2013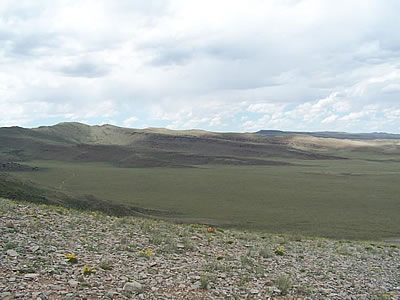 Continental Divide Trail by Megan VasquezIn October 2012, Carbon County Museum set to work on the Discovery Zone, a new exhibit and exploration space for our youngest visitors. One of the first things we decided to include was a photomural of our Carbon County landscape. We asked artists across the region to submit photos.
As fabulous entries kept rolling in, we knew the original plan to choose one winning photo had to evolve. We had to share these beautiful photos in an exhibit! Capturing Carbon County shows off some of our favorite submissions. It takes more than a great photo to make a great mural, though. After all, our 5-by-7-foot wall is more than 20,000% the size of a standard photograph! Some images got blurry at the large size we needed. Others didn't quite fit our idea of a scene with no signs of development.
Stop by the Discovery Zone today and you'll see a photomural of the North Platte River near Fort Steele. The museum's digital imaging specialist took this photo in November 2012.
In the end, we got more than we'd hoped for: not just a mural, but a new exhibit as well.
Thanks to all our entrants for their help in Capturing Carbon County!
---
J.K. Moore
September 14-December 14, 2012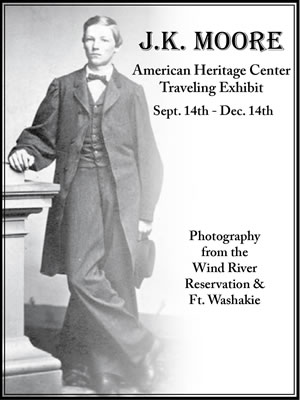 J.K. MooreThis traveling exhibit from the University of Wyoming American Heritage Center highlights the photographs of J.K. Moore. During the late 1800s Moore served as the post trader and Indian trader at Fort Washakie on the Wind River Reservation, located in the Territory of Wyoming.
Moore lived on the reservation for several decades during which he photographically documented life at the fort and the reservation. His son, J.K. Moore, Jr., continued photographing the area and people after his father's retirement to California in 1906.
This exhibit displays a portion of the Moores' work as a pictorial window on the daily lives of people living at the fort and reservation during that period. During the late 1800s James K. Moore served as the post trader and Indian trader at Fort Washakie on the Wind River Reservation, located in the Territory of Wyoming.
---
Calendars of Carbon County: 1850s-1990s
January 20 - March 3, 2012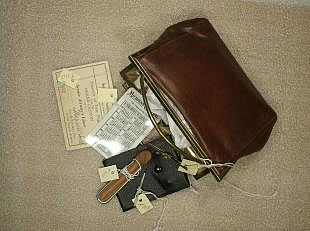 Leather purse and its contents, including a wallet-sized 1930 calendar.We are ringing in the new year with a temporary exhibit of calendars from our collection. Stop by and see a selection of original calendars owned by Carbon County residents or distributed by Carbon County business over the years.
Highlights included:
• Leather-bound diary style planners dating to the 1850s
• New Year's postcards spanning the 20th century
• 1940s pin-up calendars
• and much, much more!

An opening reception for the exhibit was held on January 20.
---