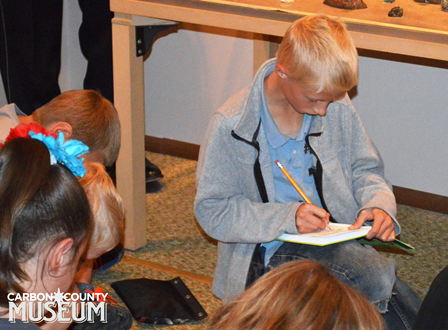 Carbon County Museum offers several activities available only in our galleries. While most are designed for self-guided families or groups, there are some that are staff-led to accompany a guided tour.
Jump to:
Please call to schedule these staff-led gallery activities.
Designed to follow a guided tour, this activity allows students to work in groups to think critically about the museum's exhibits and their themes. Students will evaluate new primary documents and integrate them into existing exhibits while analyzing how the document's introduction will enhance current exhibit messages.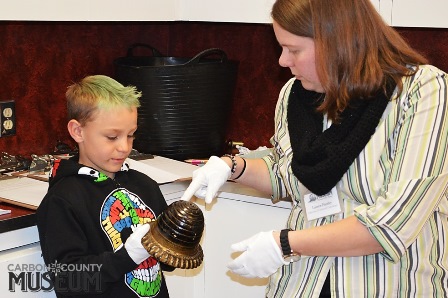 The scientific process of developing questions based on observations, testing data, and developing informed conclusions is used in our daily problem-solving activities. In this program, students will practice developing their observation and deduction skills by using their imaginations to become History Detectives for Carbon County Museum. By learning about the role of the museum curator, they will be able to hypothesize possible uses of a mystery object. As History Detectives, they will sketch, label, and practice taking detailed notes.
Program aligns with Language Arts, Social Studies, and Physical Education standards
The Transcontinental Railroad stretches from coast to coast, and its construction changed the nation. Students will explore different components of the transcontinental railroad's history through vocabulary words specific to its construction, completion, and use.
Program aligns with Language Arts and Social Studies standards
After touring the museum, students will be given specific information about four (4) outlaws tied to Carbon County, Wyoming. Following this introduction, they will work in groups to think critically about the guilt or innocence of a specific outlaw's case. Students will evaluate case information and develop arguments to support their conclusions.
Carbon County Museum Gallery Cards
Highlighting unique objects found throughout the museum, our themed gallery cards are designed to encourage a deeper connection with our exhibits. Each card includes object specific information, interactive questions, and engaging tidbits of history.
Themes include…
What's Blooming?
Searching for flowers at Carbon County Museum
Where the Wild Things Are!
Searching for animals at Carbon County Museum
Gears and Wheels
Marvelous Machines of Carbon County Museum
Gallery cards are intended for children ages 5 through 12.