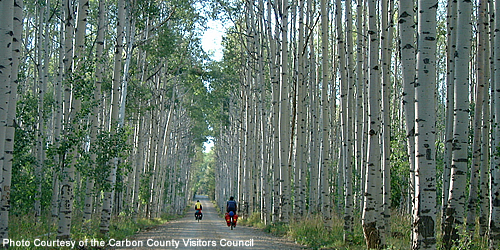 Aspen Alley, Wyoming
Aspen Alley
Don't miss this gem of Carbon County that each year fills locals and tourists alike with awe at the beauty of nature! While many aspen groves grow to be stout and wending, the trees of Aspen Alley are unique growing up to 100 feet tall with straight trunks that give the area its namesake appearance. For the best view of seasonal foliage, try to visit in the last two weeks of September, as the delicate aspens are known to take on their vibrant fall coloring early in the season.
Where: Forest Service Road 801, one mile north of Highway 70
When: early fall
For more information, contact the Brush Creek/Hayden Ranger Station at (307) 326-5258.
Rawlins' Springs
Visit the namesake of the city of Rawlins!
The town of Rawlins is named after US Army Major General John Aaron Rawlins, who in 1887 found a small spring south of where the town now sits. Rawlins is remembered to have declared it was "the most gracious and acceptable of anything he had on the march." Rawlins stated that if anything be named after him, it be a spring of water. General Grenville M. Dodge is credited with naming the site Rawlins' Springs.
A year later when the Union Pacific Railroad created a town in the vicinity of the spring, it too was named Rawlins' Springs. Ultimately, the spring ceased to have any functional use as a water supply and the name of the town was shortened to simply Rawlins.
Where: Rawlins' Springs, south of the railroad tracks at the intersection of West Davis and Bennett Streets, by the Union Pacific Caboose.
Look for: Though it is no longer functional, a green cistern still sits atop the spring.